Celebrating 25 Years of Unorthodox Ministry*
Donald A Tubesing, MDiv, PhD
Minister of Health and the Whole Person
1968-1993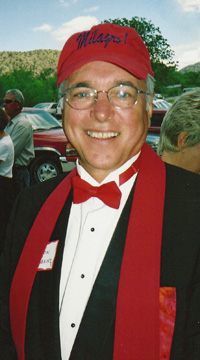 Proclaiming the Word of Faith and the Sacrament of Grace to your family, friends, colleagues, community, and the world through the gifts of creativity, provocative questions, empathic listening, poetic prose, moving messages, interpersonal sharing, and personal affirmation.
Sharing Groups in the Church

Listening Groups for students

One-on-one FRIENDS volunteers, Athens Mental Health Center

IMPACT Orientation series

Theology of Interpersonal Relationships classes/groups/retreats

Stir Up the Gifts of God

Tune In: Empathy Training Workshop

Wholistic Health Centers Project

Wholistic Health Centers—Research, monographs

Wholistic Health: A Whole Person Approach to Primary Health Care

Institute for Whole Person Health Care: Stress Skills workshops

Growth for Marriage

Miller-Dwan Hospital pain center and community education

Whole Person Associates, Rx for Burnout, Spiritual Centering

Kicking Your Stress Habits

AAL Family Health Advisory Board

The Caring Question

Living with Stress

The Stress Kit

Stress and Wellness Handbooks

National Wellness Conferences, Beyond Peptalks and Handouts, Quest for the Holy Grail, You Alone Can Be Well

Lake Louise International Wellness Leaders Conference

Pfeifer-Hamilton

Bering Bridge Peace Mission

Seeking Your Healthy Balance

Sister Cities International, Duluth

Old Turtle
How many lives have been touched by your pastoral and prophetic ministry! And there's no sin in being profitable as well. Congratulations and blessings on the silver anniversary of your paradoxical, peripatetic, passionate, pragmatic, prescient, polyphasic, powerful, provocative, psychodynamic, purposeful, prosperous, personal, priestly ministry.
—A tribute written by Nancy Loving Tubesing, 1993